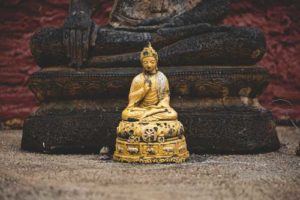 Here's the challenge.  Being present…really, really in the moment, includes all moments.  So whether you are watching a "good" movie or a "bad" movie if you are in the moment you are just being…and, that is Zen…
This list is a compilation of suggestions from meditators with a wide variety of tastes…hopefully you will find a few to be enlightening…and if you catch yourself saying…"that was a horrible movie" use that realization to help wake up from the daily trance!  Namaste!
The List:
Gandhi

This awe-inspiring biopic about Mahatma Gandhi — the diminutive lawyer who stood up against British rule in India and became an international symbol of nonviolence and understanding — brilliantly underscores the difference one person can make.

Gates of Heaven

Indie documentarian Errol Morris trains his lens on obsessive pet owners and the zeitgeist that supports them, including pet cemetery owners and embalmers. Pet owners talk candidly about the challenges they face dealing with feelings of bereavement.

The Dhamma Brothers – Netflix Instant Play

Donaldson Correctional Facility — an overcrowded, violent maximum-security prison, the end of the line in Alabama's prison system — is dramatically changed by the introduction and influence of an ancient meditation program.

Pay It Forward

In this gentle drama from director Mimi Leder, young Trevor McKinney (Haley Joel Osment) responds to a school assignment with a plan to help three people who will, in turn, help three more, and so on, in an ever-widening circle. But Trevor touches more people than he expected, including his abused mother (Helen Hunt), his physically and emotionally scarred teacher (Kevin Spacey) and a journalist (Jay Mohr) who's investigating the plan.

Unmistaken Child

Filmmaker Nati Baratz follows the spellbinding journey of Tibetan Buddhist monk Tenzin Zopa as he travels far and wide to identify the child who is the reincarnation of his deceased master, Lama Konchog. Acting on instructions from the Dalai Lama, the shy Zopa relies on astrology, dreams and other signs to locate the child, knowing that if he succeeds, he must also convince the boy's parents to release their child into his care.

The Last Samurai

Nathan is an American hired to instruct the Japanese army in the ways of modern warfare. Pressed to destroy the samurai's way of life in the name of modernization, Algren soon learns to respect the samurai and the honorable principles that rule them.

I Am – Netflix Instant Play

In this contemplative documentary, filmmaker Tom Shadyac conducts in-depth interviews with prominent philosophers and spiritual leaders — including Archbishop Desmond Tutu — about what ails the world and how to improve it.

Into Great Silence – Netflix Instant Play

Director Philip Gröning's study of the Grande Chartreuse monastery introduces a world of austere beauty as it follows the daily activities of the resident monks, whose silence is broken only by prayer and song. With no sound save the natural rhythms of age-old routines, the documentary — a Special Jury Prize winner at the 2006 Sundance Film Festival — captures the simplicity and profundity of lives lived with absolute purpose and presence.

The Matrix

A computer hacker searches for the truth behind the mysterious force known as the Matrix. He discovers that what most people perceive as reality is actually a simulation created by machines and joins a rebellion to break free.

Spring, Summer, Autumn, Winter… and Spring

Under the vigilant eyes of Old Monk (Yeong-su Oh), Child Monk (Jong-ho Kim) learns a hard lesson about the nature of sorrow when his childish games turn cruel in a story that's divided into five segments, with each season representing a stage in a man's life. This exquisitely filmed drama directed by Ki-duk Kim is entirely set on and around a tree-lined lake, where a tiny Buddhist monastery floats on a raft amidst a breathtaking landscape.

Waking Life

Director Richard Linklater's animated film follows a young man as he floats in and out of philosophical discussions with a succession of eccentrics and passionate thinkers, all the while uncertain whether he's conscious or dreaming.

Groundhog Day

Sent to cover the annual appearance of world-famous groundhog Punxsutawney Phil, a self-centered TV weatherman unleashes his bitterness — and soon realizes he's doomed to repeat Groundhog Day until he learns that his actions can affect the outcome.

Baraka

Accompanied by diverse world music — without any dialogue — this mesmerizing visual study conveys the relationship between humans and the environment, with images ranging from the daily devotions of Tibetan monks to views of the Hong Kong skyline.

Amongst White Clouds

In this fascinating documentary, filmmaker Edward A. Burger takes viewers deep into the unseen world of the Buddhist hermit monks who live and teach in sanctuaries spread across China's Zhongnan Mountains. The masters and students maintain a tradition of seclusion reputed to date back five millennia. Burger — who spent years living among the monks — offers intriguing insight into their mysterious way of life and spiritual practices.

Ikiru

When a stoic government official (Takashi Shimura) in post-war Japan learns he has terminal cancer, he suddenly realizes he's squandered his life on meaningless red tape and has no close family or friendships to lean on, in this drama from director Akira Kurosawa. Resolving to use his remaining time wisely, he sets out to steer a children's playground project through the bureaucracy he knows so well. (also recommended most of Kurosawa's films.)

Ram Dass: Fierce Grace – Netflix Instant Play

Spiritual guru Ram Dass attempts to recover from a stroke, which he dubs "fierce grace," in this documentary produced and directed by Mickey Lemle, a close friend of Dass for decades. Dass, author of the lauded Be Here Now, was felled so severely by the illness that he became paralyzed — but in true Ram Dass fashion, he saw it as a reason to look death in the face.

The Tibetan Book of the Dead

You'll feel instantly at peace with this chronicle of one of the most unique books of Buddhist spirituality, narrated by singer-songwriter Leonard Cohen. Sit back and explore the rites prescribed by the text and see how they're applied by people around the world. Two parts — "A Way of Life" and "The Great Liberation" — are included.

Samsara – Netflix Instant Play

2011 version. Unconstrained by dialogue or narration, this contemplative documentary reveals the ties between the dueling rhythms of nature and humanity as found in diverse locations across the globe, from sacred sites and natural wonders to industrial zones.

Samsara

1988 version. After Shi Ba (Han Lei) — a privileged youth turned con artist — meets a fetching dancer named Yu Jing (Xiaoyan Tan), he decides to go straight and leave his life of crime behind him. But will his checkered past come back to haunt Shi Ba when a blackmailer comes calling? Di Liu, Jingmin Luo and Lijun Liu also star in director Jianxin Huang's downbeat Chinese drama adapted from a novel by

The Way – Netflix Instant Play

When his son dies while hiking the Camino de Santiago pilgrimage route in the Pyrenees, a grieving father flies to France to claim the remains. Looking for insights into his estranged child's life, he decides to complete the 500-mile trek to Spain.

Spirited Away

During her family's move to the suburbs, Chihiro (voiced by Daveigh Chase) wanders into a magical world where a witch rules — and those who disobey her are turned into animals. When Chihiro's parents become pigs, she must find a way to help them return to their human form. Adapted from the Japanese original, director Hayao Miyazaki's adventure tale won the Best Animated Feature Oscar for its enchanting story.

A Christmas Carol (1951 version with Alastair Sim)

Considered by many to be the classic adaptation of Charles Dickens' novel, this 1951 version stars Alastair Sim as Ebenezer Scrooge, the callous miser visited by three ghosts on Christmas Eve. Michael Hordern plays the spirit who successfully haunts the old man. Co-starring in this seamless sketch of Dickens' England are Hermione Baddeley, Jack Warner, Kathleen Harrison and a young Patrick Macnee.

Something Unknown Is Doing We Don't Know What – can purchase from Amazon

Something Unknown offers us a front row seat at the frontiers of reality. Grounded in a century's worth of data from psychical research and situated in the entangled realms of quantum theory, this movie will expand your horizons and broaden your worldview. Sit back, secure your seat belt, open your mind, and enjoy a new lens of perception. You won't want to miss it! –Marilyn Mandala Schlitz, Ph.D., President/CEO of the Institute of Noetic Sciences

I Heart Huckabees

When a mystery needs to be solved, and it's not a whodunit but rather a maze involving complex emotions, it requires the expertise of intellectual — and perhaps slightly kooky — detectives Vivian (Lily Tomlin) and Bernard (Dustin Hoffman). Jude Law and Naomi Watts co-star in David O. Russell's quirky comedy that finds the existential husband-and-wife team helping a do-gooding client (Jason Schwartzman) who's plagued by twists of fate.

Koyaanisqatsi: Life Out of Balance

Koyaanisqatsi, which marks Godfrey Reggio's debut as a film director and producer, is the first installment of the Qatsi trilogy. The title is a Hopi Indian word meaning "life out of balance." Created between 1975 and 1982, the film is an apocalyptic vision of the collision of two different worlds — urban life and technology versus the environment. Philip Glass composed the film's musical score.  The other 2 movies in the trilogy are: Powaqqatsi: Life in Transformation, and Naqoyqatsi (available on Netflix Instant Play)

Peaceful Warrior – Netflix Instant Play

College gymnast Dan Millman had everything he could ever want, until an injury changed his life forever. During his recovery, fate presents Dan with a wife and a stranger named Socrates, who unlocks a world of wisdom and spiritual understanding.