Tea In Dharma Garden Zendo
How To Join Our Zen Meditations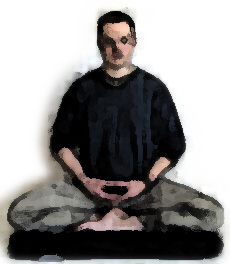 Sunday Service
10 AM-12 PM Corvallis Yoga Center 111 NW 2nd Street Corvallis, Oregon
Orientations
Orientation occurs the first Sunday of each month from 9-10 AM at the Corvallis Yoga Center. Please drop Heather a quick email if you plan to come at hkrimsly@gmail.com(click here for details)
Tuesday Evenings
Dharma Garden Zendo (call 541-754-4124 for location) Meditation (zazen) at 6:30 PM followed by a dharma discussion from 7:00-8:00 PM
Thursday Evenings
Dharma Garden Zendo (call 541-754-4124 for location) Chanting 6:30-7:00PM Meditation (zazen) 7:00-8:00PM. Daisan (interview) with Mushin is offered during many Thursday zazen periods. See weekly newsletter for current week's activity.
             This is a very brief description of what is meant by mindfulness and mindfulness meditation. If you want a full presentation there are many wonderful works of popular scholarship on this topic, several of which I list at the end of this piece. Also Google...
Sangha Member Post: Being present has seen many stages in my practice. There was the early awareness stage when I first became aware of all the mental noise. It was quite shocking. The next stage was dominated by a sense of being trapped in a thick layer of cotton. I...

 Dharma Blog Posts – Posts by Buddhist teachers or senior practitioners on specific Buddhist teachings.  They are educational, instructive, or insightful posts to help others understand the teachings of Buddha.

 Sangha Member Blog Posts – Posts by Sangha members (members practicing with Corvallis Zen Circle) about their experiences and their Zen practice on the path to awakening.
Zazenkai – a day of silent practice (Saturday, once per month)
August 29 – 9 AM-4 PM. Held at Dharma Garden Zendo. Contact Mushin at

541-754-4124

if you plan to attend and for directions.
Retreats & Other Events
 

Introduction to Zen Practice 

This half-day class will cover practice in more detail for those who want to become more involved or have questions about Zen practice.  Topics include:

meditation
chanting
setting up a home practice
working with a teacher

Class will meet Saturday, 9 am-noon, October 3. Register in advance and receive location details by emailing Mushin. Suggested donation $25, all are welcome regardless of ability to pay.

Work-A-Day Sesshin –

Sept 14-19, 2015

. Each day is our life. Each moment is our life.  During our Work-A-Day retreats, we bring the tools of our practice alive in our ordinary routines. The modified retreat schedule combines the workweek with more intensive Zen practice. We meet morning and evening for zazen, study, and dharma discussion while also going to work during the day, and finish with zazenkai on Saturday until 3. During the week we'll be introducing readings on the Five Buddha Families as a focus for our study, to explore together the elemental constituents of experience and how they take form in our daily lives. To register contact Mushin at abbydharma@gmail.com. Dinner included. $100 plus dana.
  Board Meetings
September 23, 6:30-8 pm
October 7, 6:30-8:00
November 4, 6:30-8:00
December 16, 6:30-8:00
Contact Mushin for directions and additional information