Tea In Dharma Garden Zendo
Welcome!
Corvallis Zen Circle is a local group of Zen Buddhist practitioners. Please join us and learn about this true wisdom gem.
Our practice includes:
Meditation
Chanting
Study practice several times a week
Day-long silent retreats every four to five weeks
Several four-day retreats during the year
Many of us also do longer retreats at Great Vow Zen Monastery in Clatskanie, Oregon. Our teacher, Abby Mushin Terris, received transmission in the White Plum lineage of Soto Buddhism. She also teaches at Zen West in Eugene, Oregon, and co-leads retreats at Great Vow Zen Monastery. She has studied and practiced Zen for more than forty years, is a mental health counselor in private practice and is the mother of two grown children.
Everyone is welcome to practice with us. You don't need to be a Buddhist. Many find this practice deepens their understanding of their original faith traditions.
We offer basic instruction in Zen meditation if you've never done this before. This can be helpful and can support you to develop a daily practice.
Hope to see you soon!
How To Join Our Zen Meditations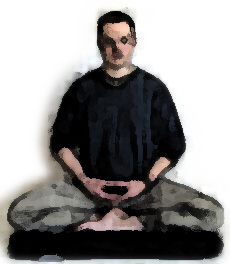 Sunday Service
10 AM-12 PM Corvallis Yoga Center 111 NW 2nd Street Corvallis, Oregon
Orientations
Orientation occurs the first Sunday of each month from 9-10 AM at the Corvallis Yoga Center. Please drop Heather a quick email if you plan to come at hkrimsly@gmail.com (click here for details)
Monday Morning Zazen
Dharma Garden Zendo (call 541-754-4124 for location) Meditation from 6:30-7:15 AM. Join the sangha to start your week right!
Tuesday Evenings
Dharma Garden Zendo (call 541-754-4124 for location) Meditation (zazen) at 6:30 PM followed by a dharma discussion from 7:00-8:00 PM
Thursday Evenings
Dharma Garden Zendo (call 541-754-4124 for location) Chanting 6:30-7:00PM Meditation (zazen) 7:00-8:00PM. Daisan (interview) with Mushin is offered during many Thursday zazen periods. See weekly newsletter for current week's activity.
             This is a very brief description of what is meant by mindfulness and mindfulness meditation. If you want a full presentation there are many wonderful works of popular scholarship on this topic, several of which I list at the end of this piece. Also Google...
Sangha Member Post: Most of the time I live as though life is a problem…like there are issues I need to solve. Of course the alternative, and the focus of Zen, is that life is a gift…and being fully in the present allows us to experience the joy of that...

 Dharma Blog Posts – Posts by Buddhist teachers or senior practitioners on specific Buddhist teachings.  They are educational, instructive, or insightful posts to help others understand the teachings of Buddha.

 Sangha Member Blog Posts – Posts by Sangha members (members practicing with Corvallis Zen Circle) about their experiences and their Zen practice on the path to awakening.
Zazenkai – a day of silent practice (Saturday, once per month)
Sep 3, Oct 1. Time: 8:30 AM-4 PM. Held at Dharma Garden Zendo. Contact Mushin at

541-754-4124

if you plan to attend and for directions.
Retreats & Other Events
Orientation to Zen Practice – At Yoga Center, 2nd & Monroe, First Sunday, 9-10 am, Please register by emailing Senmyo, hkrimsly@gmail.com

Introduction to Zen practice (at Dharma Garden Zendo) Saturday, September 10th; a half-day, in-depth class on all aspects of Zen practice to help you feel truly at home here. Contact Musin at 541-754-4124 if you plan to attend.

Study Group meets Wednesday, August 24th, 7 pm at Ontetsu's house.  (Want to join us but don't know where that is?  Emai lpamuir1@gmail.com.) We'll revisit chapter 5 in Opening the Hand of Thought and possibly take up chapter 6.

Cultivating the Way sesshin at Empty Field Zendo (near Blachly, OR)  

Thursday, August 25th through Sunday, August 28th

. This silent Zen retreat offers an experience of intimacy with nature, with the other than human world, and ultimately, our own Buddha nature.  For details and to register, see  https://www.emptyfieldzendo.org/event/cultivating-the-way/.
  Board Meetings
Aug 17, Sep 28, Oct 12, Nov 9, Dec 14
Time: 6:30-8:00 PM
All Sangha members are welcome
If you are interested in the progress on Sangha Jewel Temple this is a great place to hear the latest info
Contact Mushin for directions and additional information