Tea In Dharma Garden Zendo
How To Join Our Zen Meditations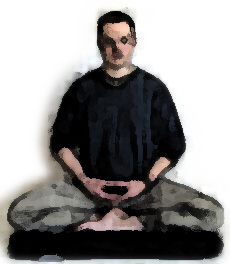 Sunday Service
10 AM-12 PM Corvallis Yoga Center 111 NW 2nd Street Corvallis, Oregon
Orientations
Orientation occurs the first Sunday of each month from 9-10 AM at the Corvallis Yoga Center. Please drop Heather a quick email if you plan to come at hkrimsly@gmail.com(click here for details)
Monday Morning Zazen
Dharma Garden Zendo (call 541-754-4124 for location) Meditation from 6:30-7:15 AM. Join the sangha to start your week right!
Tuesday Evenings
Dharma Garden Zendo (call 541-754-4124 for location) Meditation (zazen) at 6:30 PM followed by a dharma discussion from 7:00-8:00 PM
Thursday Evenings
Dharma Garden Zendo (call 541-754-4124 for location) Chanting 6:30-7:00PM Meditation (zazen) 7:00-8:00PM. Daisan (interview) with Mushin is offered during many Thursday zazen periods. See weekly newsletter for current week's activity.
             This is a very brief description of what is meant by mindfulness and mindfulness meditation. If you want a full presentation there are many wonderful works of popular scholarship on this topic, several of which I list at the end of this piece. Also Google...
Sangha Member Post: Most of the time I live as though life is a problem…like there are issues I need to solve. Of course the alternative, and the focus of Zen, is that life is a gift…and being fully in the present allows us to experience the joy of that...

 Dharma Blog Posts – Posts by Buddhist teachers or senior practitioners on specific Buddhist teachings.  They are educational, instructive, or insightful posts to help others understand the teachings of Buddha.

 Sangha Member Blog Posts – Posts by Sangha members (members practicing with Corvallis Zen Circle) about their experiences and their Zen practice on the path to awakening.
Monday Feb 1st at 4:00 PM - Tour of Potential Sangha Jewel Temple Home
Monday, Feb 1, at 4:00 PM, we will again offer a tour of a possible new location for our Sangha Jewel Temple. The house is located at 2935 NW Circle Blvd near 29th street, next door to the Unitarian Universalist Fellowship.
Zen Up Close and Personal
February 7th – Seido Martin will lead our Sunday program. Seido is a Soto Zen Lay Teacher, practicing psychotherapist, and long time organic farmer. Please join us to hear from this inspiring teacher!
Zazenkai – a day of silent practice (Saturday, once per month)
Feb 20, Mar 26, May 7, Jun 18. Time: 9 AM-4 PM. Held at Dharma Garden Zendo. Contact Mushin at

541-754-4124

if you plan to attend and for directions.
Retreats & Other Events
The Vow-Powered Life, by Jan Chozen Bays, Roshi, will be released shortly by Shambala Publishing. We'll be using this to guide our Dharma discussions on Tuesday nights in February. If you're planning to attend, you can order the book directly from Zen Works at Great Vow Zen Monastery (these are autographed copies), or through our local purveyor of all good reads, Grass Roots Bookstore.

Orientation to Zen Practice – At Yoga Center, 2nd & Monroe, First Sunday, 9-10 am, Please register by emailing Senmyo, hkrimsly@gmail.com

 Introduction to Zen Practice, (Next class time will be announced soon.)  Class covers practice in more detail for those who want to become more involved or have questions about Zen practice.  Topics include:

meditation
chanting
setting up a home practice
working with a teacher

Register in advance and receive location details by emailing Mushin. Suggested donation $25, all are welcome regardless of ability to pay.
  Board Meetings
Feb 10, Mar 9, Apr 6, May 11, Jun 22
Time: 6:30-8:00 PM
All Sangha members are welcome
Contact Mushin for directions and additional information